Löffler-Fischer / Austria um 1985
Eine klassisch kurze Tennishose von Mitte der 80-er Jahre. Original von LÖFFLER / Österreich, aus einem etwas elastischen 100% PE, fühlt sich glatt wie Popeline auf der Haut. Mit doppel-Metallhaken und Zip, zwei Seitentaschen aber keine Popotasche. Der Bund ist kaum elastisch; er lässt sich aber durch seitliche Einsätze per Druckknopf etwas straffer einstellen. Vorne am Bein ein schön gesticktes "L"= Löffler-Logo. Noch nie getragen und topfit mit Etikett! Die alten Grössen fallen nach heutigen Masstäben sehr knapp aus! Die in Blau gedruckten Vergleichs-Grössen sind zutreffender! Nachmessen !!!

An classic oldschool tennis shorts original by Löffler / Austria. Made in the 80th by an bit elastic Polyester-material (PE) in sky-blue color. With two side bags. Waist with metal-hook and zip, This short is from an old south German sportswear stock and infact brandnew still! Please compare your own waist with my measured dimensions! Waist not, and tights only a bit elastic!
| | | | | | | | |
| --- | --- | --- | --- | --- | --- | --- | --- |
| Bundweite* waist | Seitenlänge length lateral | Oberschenkel- weite* waist of legs | original- Grösse original-size | | | Best-Nr article-no. | Preis price |
| 80cm = 31,5" | 35cm = 13,8" | 62cm = 24,4" | H 48 | Herren: 44-46 | 30-32 | T-137 / 48 | 24,90 € |
( ": 1 inch/GB = 2,54cm ) * Die Bundweite ist immer "ringsrum" gemessen / waist around measured
-------------------------------------------------------------------------------------------------------------------------------------------------------------------------------------------------------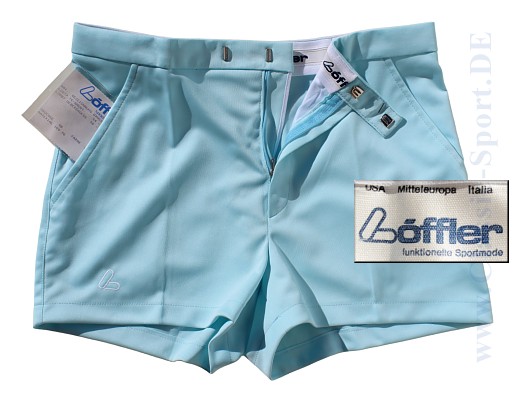 | | | | | | | | |
| --- | --- | --- | --- | --- | --- | --- | --- |
| Bundweite* waist | Seitenlänge length lateral | Oberschenkel- weite* waist of legs | original- Grösse original-size | | | Best-Nr article-no. | Preis price |
| 82cm = 32,3" | 34cm = 13,4" | 62cm = 24,4" | H 48 | Herren: 44-46 | 30-32 | T-138 / 48 | 24,90 € |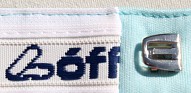 Lieferzeit + Versandkosten / shipment costs
...weitere Tennisshorts in vergleichbaren Grössen / more than tennis wear in comparable sizes:
| | | |
| --- | --- | --- |
| | | |
| Ellesse (Italia) | Anba (AT) | Anba "Camborne" |
<<< weitere Kollektionen / more than collections